On Tuesday 18th July 2017, Le Cordon Bleu London had the pleasure of welcoming distinguished chef and former Masterchef judge Chef Degan Septoadji, to host an interactive cooking demonstration exploring the sumptuous secrets of exotic Indonesian cuisine.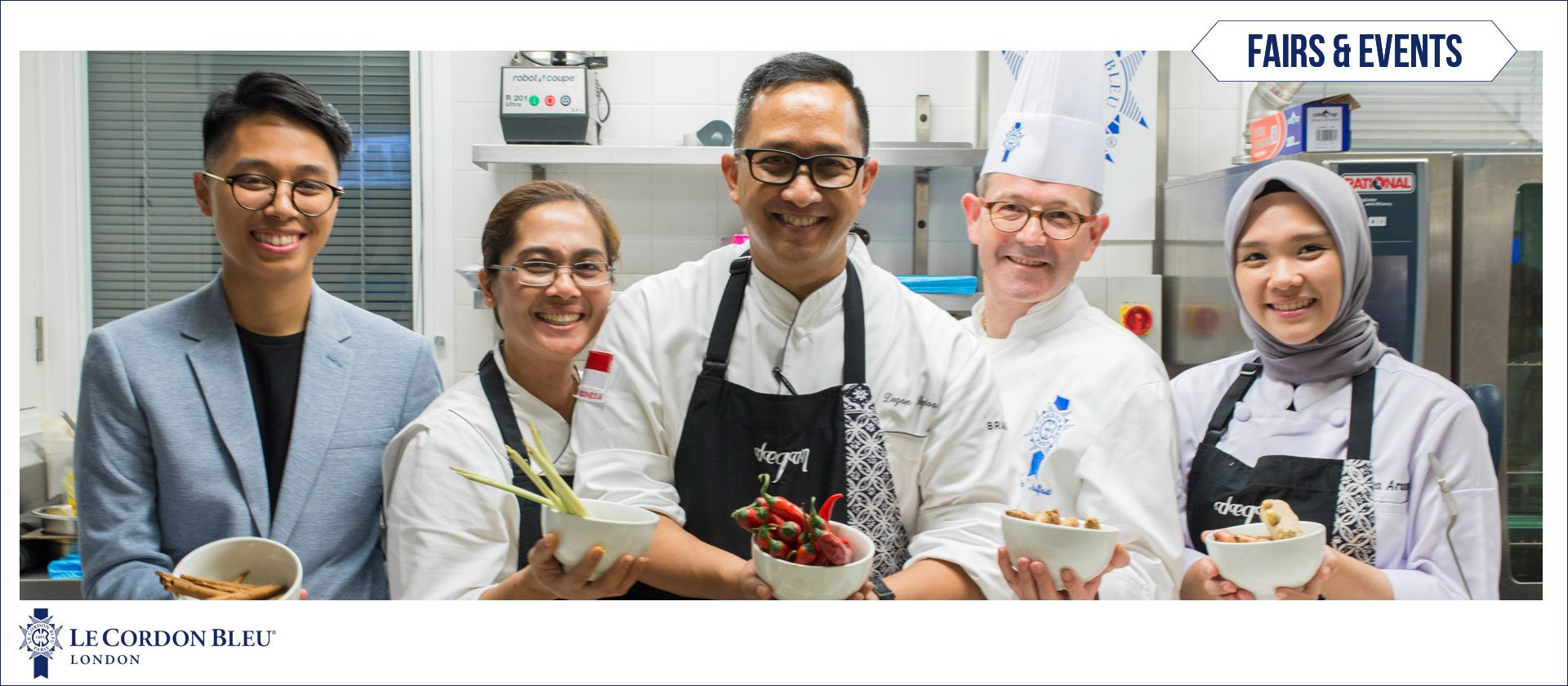 Chef Degan's love for Indonesian food has seen him cook at some of the world's best venues, including the 3 Michelin-starred Restaurant Schwarzwaldstube in Germany, and he was also nominated for 'Best Asian Chef' at the 2012 World Gourmet Summit in Singapore.
On the night, you could really see Chef Degan's passion for the cuisine as he took our guests on an insightful journey through Indonesia's culinary heritage and offered a tantalizing taste of his beautiful country.
The acclaimed chef started the demonstration by preparing 'Bumbu Kuning,' which is the yellow spice paste that underpins many Indonesian recipes. He then used this key ingredient as a foundation for the dishes that he prepared throughout the rest of the evening.
Our guests were really in for a treat as Chef Degan made, not one, but three different dishes which all featured chicken and his freshly made Bumbu Kuning. These were:
Ayam Panggang – Roasted turmeric-spiced chicken
Kare Ayam – Chicken in a yellow curry
Soto Ayam – A beautiful warming chicken soup with turmeric, ginger and fried shallot.
After Chef Degan completed his trio of mains, all guests were invited to taste the dishes and indulge in a few complimentary drinks.
It was a really exciting demonstration as Chef Degan introduced our guests to many new flavours and demonstrated why he has become such a prolific Indonesian chef in the industry.
Le Cordon Bleu London: "Chef Degan and his team brought something a bit different to our school, and also gave our guests a little inspiration to experiment with more exotic ingredients and flavours!"
Source : https://www.cordonbleu.edu/news/degan-septoadji-guest-chef-demonstration-indonesian-cuisine/en